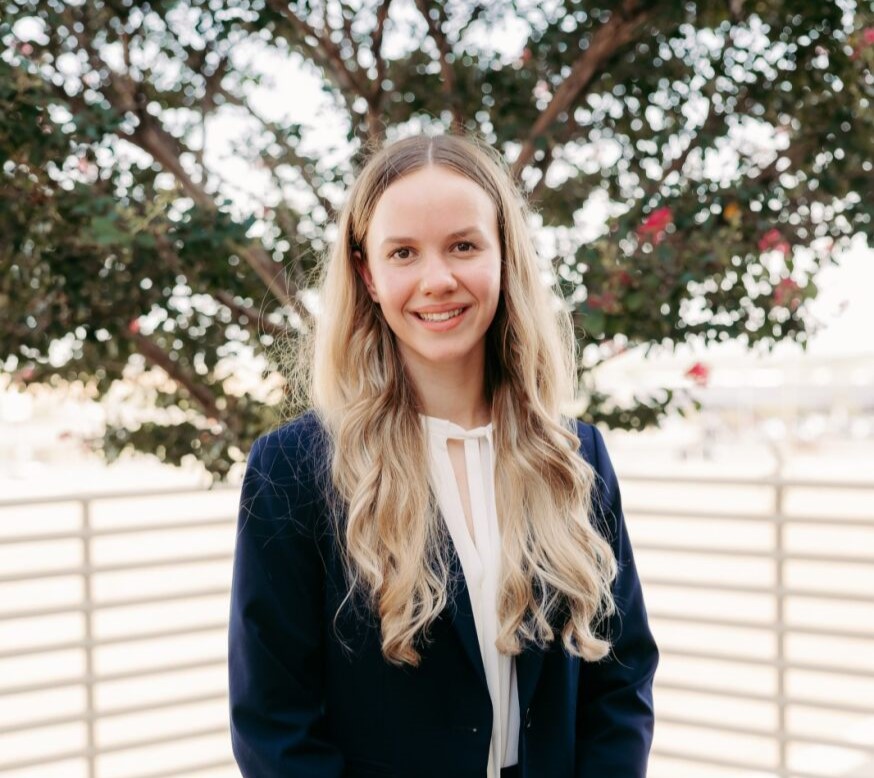 Isabella Hardej, M.D. candidate '27, finds Baylor's new School of Medicine regional campus in Temple a perfect match
As a high school student in Austin, Isabella Hardej, M.D. candidate '27, knew she wanted to be a doctor and likely specialize in Obstetrics and Gynecology – a future envisioned from shadowing maternal-fetal medicine specialist David Berry, M.D., for a high school career fields course.
"After the first week in his clinic, I just knew this was what I wanted to do with my life," Ms. Hardej said. "He was an incredible mentor – this is where I first saw what a doctor does every day, and I was also exposed to OB/GYN, so both things started becoming a passion for me.
"I love the idea of working for women and caring for them during a very beautiful but potentially difficult time in their lives that is pregnancy and childbirth, as well as caring for their regular female health needs throughout life."
In August, Ms. Hardej was among 40 first-year Baylor College of Medicine School of Medicine students to walk through the doors of its new regional campus in Temple, where she sees endless possibilities.
"This is an incredible opportunity to shape the culture of the campus," she said. "We have a lot of Baylor traditions that we carry on here, and we stay connected to Houston through our Zoom classes, but there is an additional layer of being able to start new interest groups, clubs and volunteer opportunities, as well."
Working with other students, Ms. Hardej has helped to establish a lifestyle medicine interest group that will start in the spring and to set up a Temple counterpart to Houston's Moms to Moms, which helps post-partum mothers navigate new challenges and infant care. Additionally, she and another student are now the Temple campus liaisons for the Houston OB/GYN interest group, and Ms. Hardej is Temple's BCM LIFE ambassador.
As soon as she visited the Temple campus, Ms. Hardej said she knew that it was the place for her to be.
"I loved the vibe of a smaller town and the idea of staying in Central Texas and caring for the populations here, since it's where I spent my high school and undergraduate years," she said. "It felt right, and to have my family an hour away was also important."