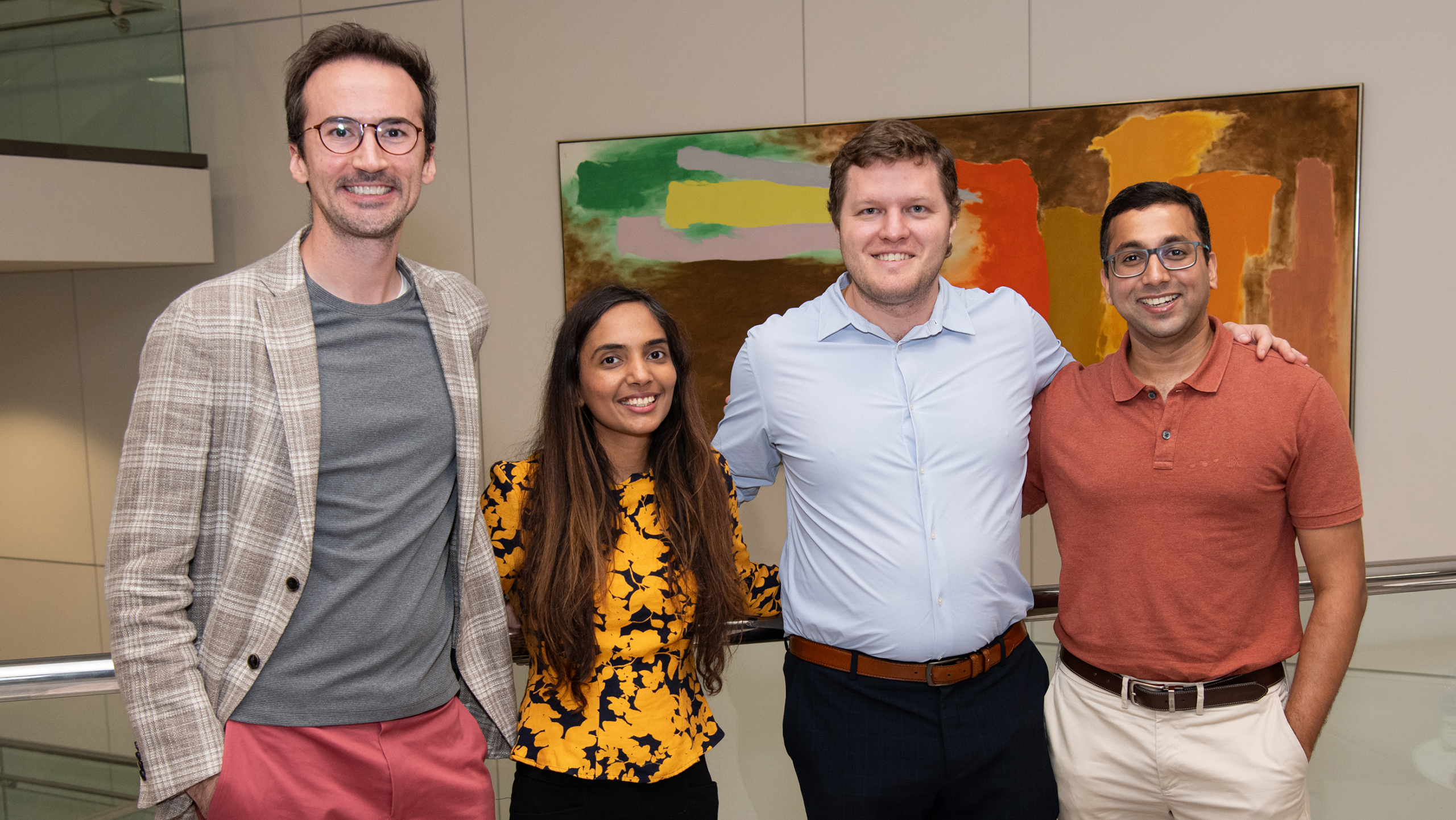 Alumni share stories of entrepreneurial success during inaugural Graduate School Career Series event
Alumni, faculty and students from the Graduate School of Biomedical Sciences participated in Baylor College of Medicine's inaugural Graduate School Career Series: "Start-ups: Where to Start?" event Sept. 13 focused on how to become a successful entrepreneur and effectively grow a business.
The panel discussion was moderated by Nirav Shah, Ph.D. Candidate '25, and featured entrepreneurs Smriti Zaneveld, Ph.D. '18, and Jacques Zaneveld, Ph.D. '15, founders of Lazarus 3D Inc., and Adam Hansen, Ph.D. '20, founder of Geneial. The panelists shared insights from their experiences in starting their own companies and lessons learned. The event was followed by a brief networking mixer.
"Returning to Baylor was like coming home, and it was an honor and privilege to connect with and inspire the next generation of scientists, entrepreneurs and clinicians," Dr. Jacques Zaneveld said. "Baylor graduates do amazing things, and the resources and support network provided by the community helps great ideas take hold and grow."
While a student at Baylor, Dr. Zaneveld co-founded Lazarus 3D, which empowers clinicians to physically rehearse upcoming surgeries all across the U.S. through the company's FDA-cleared Pre-Sure technology.
"The skills developed and relationships fostered from my time at Baylor have positioned our company Geneial to receive significant National Institutes of Health funding to increase privacy and protect data ownership as we advance our vision of community-led, private genetic medicine," Dr. Hansen said. "It was an honor to pay it forward by sharing my story with trainees and alumni."
"As a second-year graduate student this panel helped me look at other directions for my career than the traditional path we all hear about," said Shaghayegh Beheshti, Ph.D. candidate, Genetics and Genomics. "The conversations were very well organized and insightful. I enjoyed getting to know and connect with Baylor entrepreneurs who used to be in the same position I am in today and to see the opportunities in front of me."