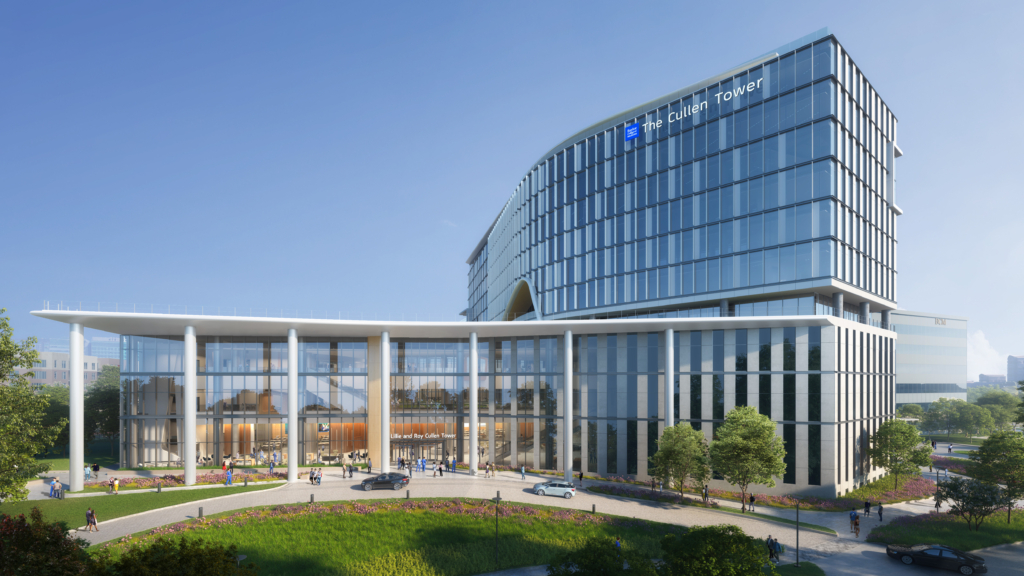 Students share excitement about Baylor's new home for the schools of Medicine and Health Professions
Baylor College of Medicine announced the beginning of construction of the new Lillie and Roy Cullen Tower – an innovative, collaborative space for medical education and research – at an event on May 24, marking a new chapter in the College's biomedical education mission.
Beginning in 2026, the cutting-edge education building will serve as the home for the schools of Medicine and Health Professions. The original education building, the Roy and Lillie Cullen Building, will be converted into much-needed laboratory space for Baylor's expanding research enterprise.
The new Cullen Tower's design recognizes the ways medical school curriculum has changed since Baylor opened for its first classes in the Texas Medical Center in 1943. It will be one of the largest and most technologically sophisticated medical school facilities in the United States. It will offer small-group and studio classrooms to facilitate active learning alongside a large-capacity, high-tech theater-style event space, a state-of-the-art anatomy lab, teaching labs and a simulation center that provides immersive, hands-on learning before students conduct clinical rotations. In addition, innovative research space will focus on big data analytics, equipping students with skills vital to the future of health sciences.
The Cullen Tower is the first phase of Baylor's planned Health Sciences Park, an 800,000-square-foot project that will integrate medical education and research in a collaborative environment next to patient care at Baylor Medicine and Baylor St. Luke's Medical Center on the McNair Campus. This proximity between educational and clinical areas will allow trainees to enhance their classroom learning with experience in the lab and the clinic.
The campus is adjacent to the Texas Medical Center's Helix Park, a 37-acre project that will support a collaborative mix of healthcare, life sciences and business. Baylor is the anchor tenant in the first building being constructed in Helix Park, which will help position Houston as a leader in life sciences and a pioneer in integrating research and clinical assets in collaboration with business to revolutionize healthcare.
"To change the future of health, we need a space that facilitates the future," said Baylor President, CEO and Executive Dean Paul Klotman, M.D. "We need to have a great building to recruit great talent."
Several current and recently graduated students shared their thoughts about The Cullen Tower:
"The Cullen Tower will give me more opportunities to develop my clinical and science knowledge outside of class curriculum, especially in collaborating with professionals across many disciplines of medicine."
– Ivan Angelov, M.D. candidate '26
"I think the extra space for interdisciplinary or small group work is a great addition given how often we work as teams in our schooling."
– Juliana Abel, M.S., '23
"It makes me feel really lucky to be at an institution that has such support for our education."
– Camaren Cuenca, M.D. candidate '26
"The support for the Tower makes me feel that I am part of a community where people care so much about the success of all my peers. It gives me the impetus to work hard and try and achieve great things."
– Rioke Diejomaoh, M.D. candidate '26
The tower is made possible by a $30 million lead gift from The Cullen Foundation, The Cullen Trust for Health Care and The Cullen Trust for Higher Education. The Cullen family has long been among Baylor's most dedicated supporters. Additional lead gifts include $12 million from The DeBakey Medical Foundation, $10 million from the Huffington Foundation and more than $45 million total from members of Baylor's Board of Trustees and other community donors, including the M.D. Anderson Foundation, the Albert and Margaret Alkek Foundation, Maire and David Baldwin, Polly and Murry Bowden, Ronda and Greg Brenneman, The Elkins Foundation, Claudia and Fred Lummis and Jeri and Marc Shapiro.
To pay it forward and support the next generation of healthcare leaders, click here. To visit The Cullen Tower website, click here.