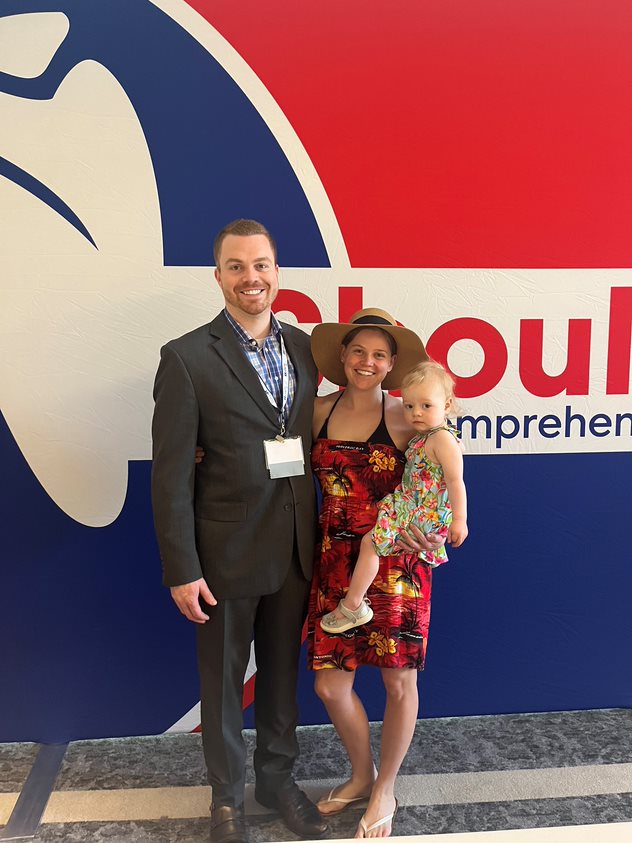 Brian Davis, M.D. '21, shares his path toward medicine
Baylor alumnus Brian Davis, M.D. '21, is currently an orthopedic shoulder and elbow fellow at Western Orthopaedics/Denver Shoulder. He will transition to private practice in Broomfield, Colorado, at Boulder Centre for Orthopedics & Spine beginning in September. Learn more about Dr. Davis below.
Why did you decide to go into healthcare?
I had an early exposure to physicians and medicine as my mother was an OB/GYN for more than 30 years. Additionally, as a native to Colorado, the abundance of outdoor adventures exposed me to a plethora of orthopedic injuries afflicting those around me and initiated my passion for an orthopedic career. I vividly recall the privilege of abetting my sister through six months of postoperative scoliosis rehabilitation until she was able to join me again equestrian trick riding. The impact of musculoskeletal injuries hit home again when my father sustained an ankle fracture while ski-racing with me down the alpine slopes. Yet, it was my appreciation for orthopedic surgery that resurfaced weeks later when he was able to walk down the aisle at my wedding. Experiences like these culminated a passion in me to be a part of a team that is instrumental to injured patients returning to peak physical condition.
Why did you choose to attend Baylor College of Medicine?
Baylor College of Medicine and the Joseph Barnhart Orthopedic Surgery Department attracted me for orthopedic residency training as they have a comprehensive program located in the huge Texas Medical Center with a broad exposure to diverse patient pathologies at the Houston VA, Texas Children's Hospital, MD Anderson Cancer Center, Baylor St. Luke's Hospital and level one trauma at Ben Taub Hospital. Ultimately, I matched at Baylor because I knew I would graduate a proficient surgeon with the ability to create excellent patient outcomes.
What is one of your greatest memories of your time at Baylor?
Baylor has a unique two-month rotation during chief year which allows the chief residents to attend a traveling fellowship. During this time in my chief year, I traveled to Berne, Switzerland, and learned from one of the best European shoulder surgeons, Dr. Prof. med Ralph Hertel. I gained significant insights into arthroscopic and open shoulder surgery techniques and how these sometimes differ from the American surgical perspective. I even saw my first truly open rotator cuff repair. This dedicated time for additional learning, especially through an international lens, was instrumental in my training and is a rarity in orthopedic residencies.
Was there anyone at Baylor that had a significant impact on your life/career?
There were numerous mentors from Baylor – ranging from orthopedic surgeon faculty to OR staff to physical therapists to athletic trainers – who had an early and significant impact on my career path and that I continue to remain in contact with as I progress.
All of the Baylor orthopedic faculty played a significant role in my training and development, but the following surgeons and staff have earned a special shout-out:
Faculty Surgeons: Anup Shah, M.D. (now at Banner University Phoenix), Melvyn Harrington, M.D. (Baylor College of Medicine), Bradley Edwards, M.D. (Texas Orthopedic Hospital), Bruce Moseley, M.D. (Baylor College of Medicine), William Granberry, M.D. (Baylor College of Medicine), Brian Adams, M.D. (Baylor College of Medicine), Anastassios Karistinos, M.D. (Baylor College of Medicine), Jack Dawson, M.D. (Baylor College of Medicine), Christopher Perkins, M.D. (Baylor College of Medicine), Omar Atassi, M.D. (Baylor College of Medicine), Bryce Bell, M.D. (Texas Children's Hospital), Scott McKay (Texas Children's Hospital), Nicole Montgomery, M.D. (Texas Children's Hospital)
OR staff: Abby Lamb and Levi Meeks
Athletic Trainers: Leah Palmer M.S., AT-C, LAT, BCS-O
Is there any advice that you'd like to share with current residents/fellows?
Learn multiple techniques to attack a surgical problem and have multiple back-up plans. Pick your mentors' brains as to the why of their surgical indications and techniques, not just the how. Keep detailed notes on the surgical techniques that you learn – you will reference them later and be glad you created them. Maintain your work-life balance – continue hobbies and sports/activities that you love and connect with family/friends often.
Please share some professional highlights/accomplishments:
Dual fellowship-trained in sports medicine at UCHealth Steadman Hawkins Clinic Denver, Englewood, Colorado, 2021-22, and the first shoulder and elbow surgery fellow at Western Orthopaedics/Denver Shoulder, Denver, Colorado, 2022-23.
Covered the sideline for the Denver Broncos and Colorado Rockies during fellowship, current sports medicine physician for the U.S. Ski & Snowboard Association (U.S. Snowboard Cross team) and the Colorado Gray Wolves (Women's Premier League Rugby).
Completed an international surgical fellowship in shoulder and elbow surgery under Prof. Dr. med Ralph Hertel in Berne, Switzerland.
Recipient of the Joseph Barnhart Bronze Hammer Award in 2020, which is $10,000 awarded to a fourth-year orthopedic surgery resident who is "an honest individual with respect for people, gentle in manner, selfless in judgment, honest in application of skills, inventive in skills," as selected by residents and faculty in support of expenses related to an educational elective experience in the chief resident year.