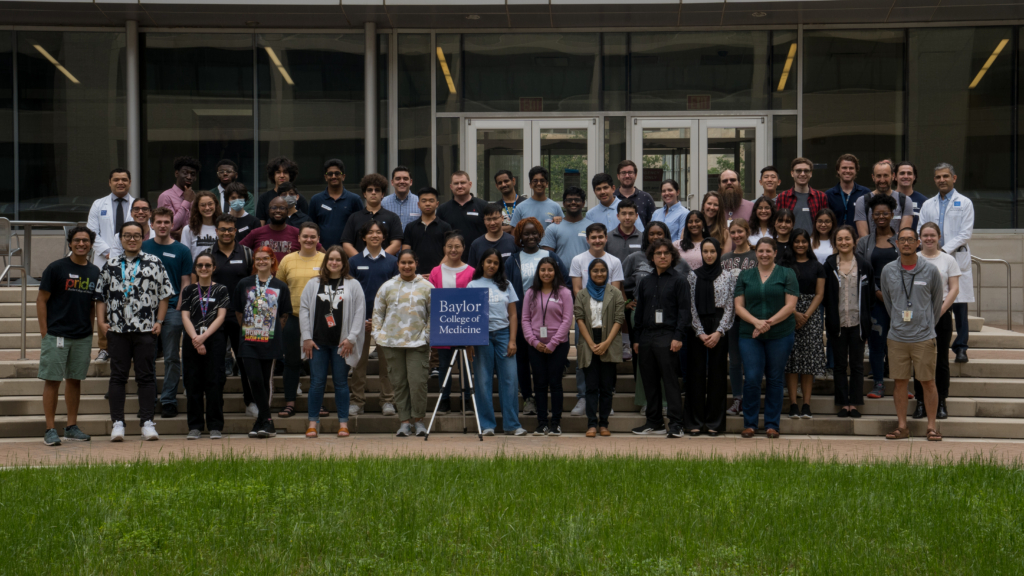 Graduate student-led program introduces high school students to neuroscience, builds foundational pipeline to the lab
"If you build it, they will come," a phrase adapted from the 1989 film "Field of Dreams," encapsulates the vision for a new Baylor College of Medicine student-led program dedicated to engaging Houston-area high school students in neuroscience and building a pipeline to foster interest in the lab environment.
In May, 30 students from the Michael E. DeBakey High School for Health Professions were invited to spend a day at Baylor's Department of Neuroscience exploring different lab settings and topics, learning how to conduct a neurological exam and participating in a panel where students and faculty shared aspects of their journey through academia and medicine.
The first annual New-Bee Neuroscience Program was hosted by the Neuroscience Outreach Committee, composed of graduate students Isabel Danstrom, Mario Galdamez, Noura Hakam, Andre Kirunda, Guo-Teng Liang, Corey St. Romain and Associate Professor Jeffrey Yau, Ph.D.
"The goal of the program is not only to get these kids excited about neuroscience and expose them to its breadth and depth, but also to establish a pipeline so that once students participate in the program, they could potentially apply for a year-long paid internship in a Baylor Neuroscience lab," said Mr. Kirunda, who leads the Committee alongside Dr. Yau.
Beyond establishing a pipeline, the Committee wants to refine and enhance the current program before targeting schools in underserved communities, where access and exposure to clinical and scientific settings are not as prevalent as in the Texas Medical Center and West University neighborhoods.
"We learned a lot from the success of this first year and want to build on this success to refine and then scale the program to larger groups," Dr. Yau said. "A priority of ours is to grow the program and engage with additional communities with limited access to STEM opportunities at Baylor. We look forward to working with alumni to create these new opportunities."
To learn more about the program or how to get involved, contact Mr. Kirunda at andre.kirunda@bcm.edu. To make a gift in support of the Department of Neuroscience and outreach efforts like the New-Bee Neuroscience Program, click here.
Student Reactions*
"I really enjoyed this experience. I learned a lot more than I previously knew about the field of neuroscience. Please let me know if there are any other neuroscience programs I can attend or research I can help with."
"All the labs were fascinating, and the researchers and doctors and grad students were super knowledgeable, and I loved how all the Baylor participants sat and ate lunch with the students! That was so cool and a really great experience and one that really helped humanize them. I also appreciated the different array of what labs could look like and study. This really showed the scope and breadth of the field of neuroscience!"
*Comments gleaned from anonymous post-event survey