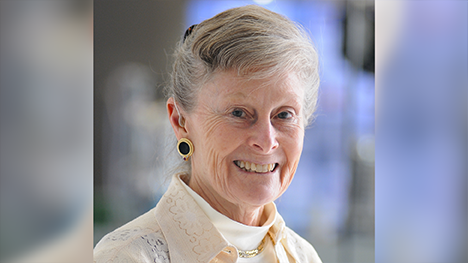 Baylor professor Dr. JoAnne Richards has spent a lifetime dedicated to science
For some, the path to a career in medicine is often linear and logical. JoAnne Richards, Ph.D., took a more circuitous route to her remarkable career in science discovery that stretches more than 50 years.
"My career has been an adventure with a series of early stepping stones," said Dr. Richards, a celebrated professor of Molecular and Cellular Biology in the Dan L Duncan Comprehensive Cancer Center at Baylor College of Medicine.
During her time as an undergraduate student at Oberlin College, an undiagnosed hearing deficit compelled Dr. Richards to make a pivotal decision. She switched her major from French to biology, embarking on a path that would define her future.
In graduate school at Brown University, Dr. Richards found herself immersed in a laboratory.
"This was my first exposure to research," Dr. Richards said. "We were studying ovarian biology at a time when steroid hormones and contraception were subjects of immense interest and investigation."
After completing her Ph.D. at Brown and a stint teaching at the University of North Dakota, Dr. Richards was accepted into the Reproductive Endocrinology Program at the University of Michigan. It was a time of excitement and groundbreaking discoveries, she recalls.
"I was very fortunate to join the program at that time because of the exciting work they were doing developing radioimmuno-assays to accurately quantify reproductive hormones for the very first time," Dr. Richards said. "I was hooked."
Now, after an illustrious 42-year tenure at Baylor, Dr. Richards' distinguished career in science has been punctuated by several important discoveries, including cloning one of the first ovarian genes – the regulatory subunit beta of cAMP-dependent protein kinase II (RIIβ) – using an arduous antibody screening assay, and the first discovery of prostaglandin synthase 2, a key gene controlling ovulation. These discoveries have enhanced our understanding of ovarian steroid hormone synthesis and ovulation as a normal controlled inflammatory-related process.
At Baylor, Dr. Richards continues to give back to the College, supporting the next generation of research scientists.
"My support for Baylor grew from my sincere admiration for the faculty, postdoctoral fellows, graduate students and M.D./Ph.D. students in the Molecular and Cellular Biology Department and in other departments across the College," Dr. Richards said.
Her generous gifts to Baylor over the last 20 years have benefited numerous programs. One that is particularly close to her heart is Baylor Research Advocates for Student Scientists (BRASS), a volunteer organization that supports Baylor's Graduate School of Biomedical Sciences.
"I have deeply admired their dedication to helping young aspiring research scientists become part of a supportive organization since the effort began in 1995," Dr. Richards said.