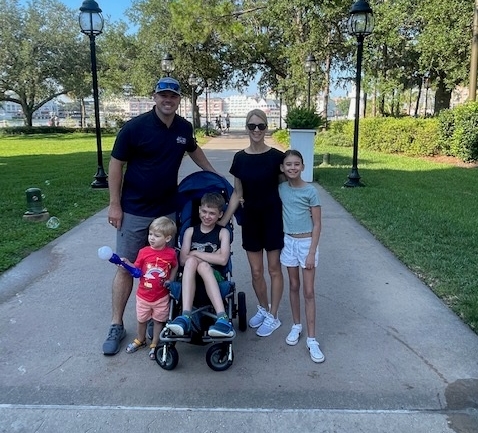 Rare childhood disease has hope for a cure thanks to ongoing support by Courage for a Cure Foundation
Imagine the anxiety and worry of having a child diagnosed with a rare and complex medical condition that has no cure and has symptoms that are difficult to treat. Imagine the hope you would have for a cure. This is the reality for Jenna and Justin Crosby, whose son Carson was diagnosed with mitochondrial disease at age 3.
Since 2016, the Crosby's Courage for a Cure Foundation has generously supported research in mitochondrial disease conducted at Baylor College of Medicine by Fernando Scaglia, M.D., professor in the Department of Molecular and Human Genetics, and a physician at Texas Children's Hospital.
Mitochondrial disease usually begins in childhood and is hard to diagnose and treat because of the many ways that it manifests itself in different patients. It is a genetic disorder that occurs when structures responsible for producing energy in a cell malfunction, affecting different parts of the body like the brain, kidneys, muscles, heart, eyes, ears and others.
The Foundation is devoted to raising funds for mitochondrial disease research, educating healthcare providers about the illness, helping afflicted patients and families cope, and increasing public awareness – with the hope of one day finding a cure.
"We began Courage for a Cure in hopes of creating change and making life a little easier for families and children who will go through a life changing diagnosis like we have," Mrs. Crosby said. "Our son, Carson, has inspired us to not only spread awareness for rare diseases like mitochondrial disease, but also help improve the diagnostic process and treatment for families and doctors. We are honored to work with Baylor and Dr. Scaglia to enhance the field of mitochondrial disease research." 
In October 2022, the Foundation held a fundraiser and golf tournament, raising the most funds to date for its goal to enhance the pediatric resources that local hospitals provide for surrounding communities. As a result of the fundraiser, the Crosby family presented a check for $50,000 to Dr. Scaglia in January.
"I am very appreciative of the tireless efforts that the Crosby family and the Courage for a Cure Foundation provide to continuously support our research in mitochondrial disorders," Dr. Scaglia said. "These funds are the cornerstone of our project of data collection and longitudinal study of patients with mitochondrial disease. Following up the evolution of these disorders will help us to find better biomarkers of disease and plan therapeutic trials in the near future."