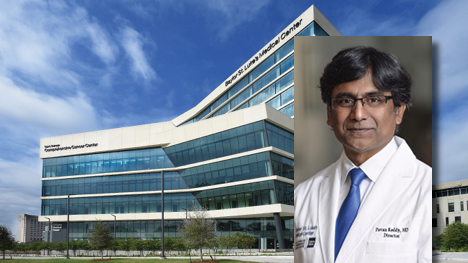 In the world of cancer research, patient-centered care drives Pavan Reddy, M.D., director of Baylor's Duncan Cancer Center
Pavan Reddy, M.D., shouldn't be here. When he entered medical school, Baylor's director of the Dan L Duncan Comprehensive Cancer Center had every intention to become a cardiologist. That changed after his first rotation as an intern in an oncology unit at the University of Missouri. There, with his first patient, Dr. Reddy experienced the profound grace that can accompany devastating loss when facing cancer.
"It was my first exposure to seeing a patient die in my presence," Dr. Reddy said. "It was among the most moving experiences of my life, and I changed my mind about being a cardiologist to trying to do something about oncology and oncology care."
His desire to help patients and to find better, more effective treatments for cancer, drew Dr. Reddy to Baylor from the University of Michigan in September 2022, where he was the division chief of hematology-oncology and the deputy director of the Rogel Cancer Center.
 "We have about 50 comprehensive cancer centers in the nation, but not everyone truly has access to these resources," he said.
National Cancer Institute-designated comprehensive cancer centers are nationally recognized for clinical and scientific excellence, as well as being exceptional sources of discovery and development of more effective approaches to cancer prevention, diagnosis and treatment. The Duncan Cancer Center is one of two comprehensive cancer centers in Houston.
In addition to the innovative research happening in Baylor laboratories every day, the prospect of helping all who are facing cancer was enormously attractive to Dr. Reddy.
This perspective, keeping patients with cancer at the center of his attention and remaining empathetic to their plight, helps Dr. Reddy maintain balance in the sometimes frustrating world of cancer research. He believes that discovery is a long road, and every discovery or setback is just another step along that journey.
Help us power the future of health.