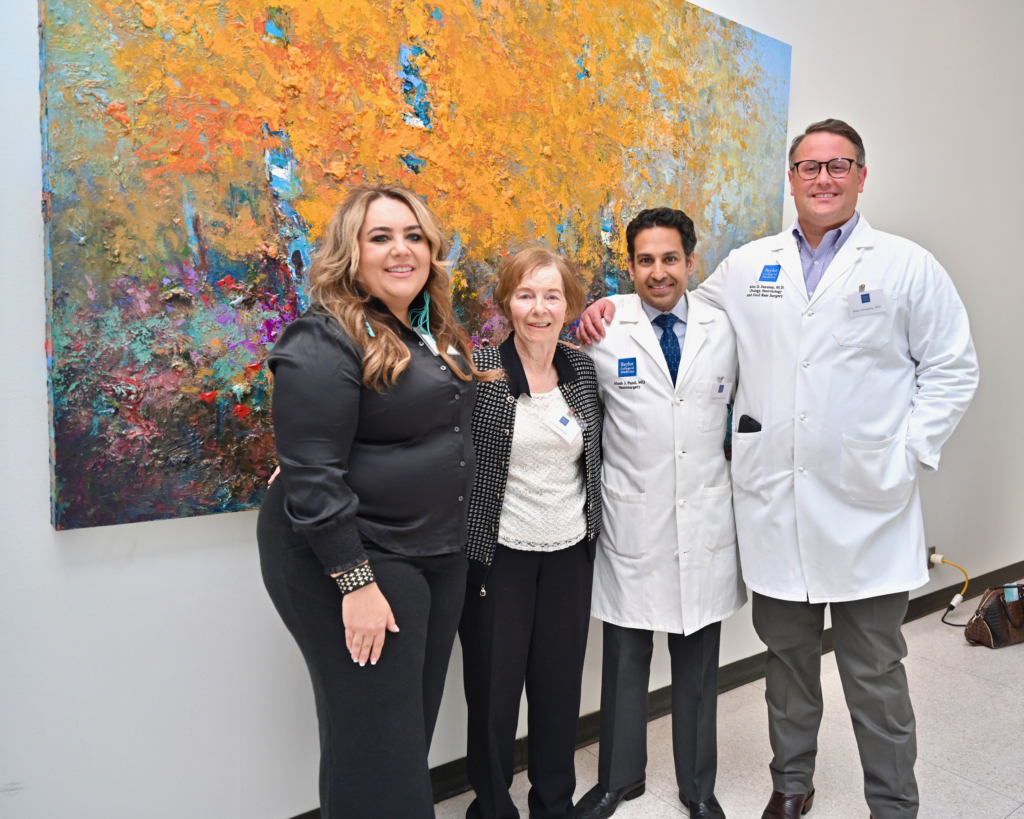 Artist dedicates paintings to Baylor after surgeons help prolong her mother's life
Kira Fercho, a modern impressionist oil painter from Montana, was painting one afternoon when concerns about her mother Lucille Fercho's recent unusual behavior began to distract her.
Kira's friend, who is a nurse, encouraged Kira and her mother to go to the emergency room. That day, they learned Lucille had a brain tumor and required emergency surgery. Unfortunately, after the procedure the brain tumor continued to grow, and it caused Lucille to lose some of her hearing and her face to droop.
Kira realized they couldn't get the specialized treatment Lucille needed in Montana, so Kira called one of her clients and friends to see if they could help. Kira and Lucille later received a call from Baylor neurosurgeon Akash J. Patel, M.D.
"It was so meaningful to me that the brain surgeon who would be helping mom cared enough to make a connection with us," Kira said.
Last October, Lucille underwent a nine-hour surgery where more than 92% of the tumor was removed. Within three days of surgery, Lucille was recovering well and asking to do things she used to enjoy, like going to the movies. Today, Lucille is able to drive again and take flights to visit her daughters.
Throughout her mother's health battle, Kira painted two original pieces that depict aspen trees in nature. She finished these paintings during her mother's recovery.
In gratitude for the excellent care her mother received from Dr. Patel, Baylor otolaryngologist Alex D. Sweeney, M.D., and the patient coordination team, Kira decided to donate these oil paintings, now located in the Michael E. DeBakey Library and Museum atrium. She unveiled her artwork during a painting dedication held at Baylor on April 18.
"The technology and services Baylor provides will prolong my mom's life," Kira said. "The care and competency Baylor's staff provided made this nearly unimaginable situation easier to navigate."
Help us power the future of health.