Crusading Against Cancer: a Baylor Student's Fight to Save his Brother
Cancer. The word itself strikes fear in our hearts. Most of us know someone who has been affected by this insidious disease, and Baylor College of Medicine student Victor Albornoz-Alvarez is no exception. But what makes Victor stand out is his quest to save his brother, Hugo, from osteosarcoma – the most common primary bone tumor in adolescents and young adults.
Victor has been around physicians and nurses nearly his whole life. At three years of age, a mudslide destroyed his home in Venezuela. A helicopter had to fly his family to a nearby city, where the constant background movement of doctors and nurses piqued his curiosity and etched itself into his memory. While living in Venezuela, Victor's brother, Hugo, fought his first battle against cancer and achieved complete remission.
"I just love the idea of being the hero because you want to help other people, and the more you can do, the better…"
This experience would ultimately shape Victor's future. "I just love the idea of being the hero because you want to help other people, and the more you can do, the better," he said. His life mission became learning everything he could about head and neck cancers like osteosarcoma and helping other aspiring medical scientists like him gain access to the world's leading experts.
Victor and his family later moved to the United States. There, he earned his degree in Biomedical Engineering from The University of Texas at Austin, where he learned about the incredible advancements pioneered by Baylor College of Medicine. Baylor became his first choice for medical school, and he was accepted in 2018.
Victor's acceptance into medical school was a happy occasion, but around this time, he noticed that the right side of his brother's face had become swollen. At first, two of Hugo's biopsies came back inconclusive, but Victor knew that something was deeply wrong. His instincts were right – his brother's cancer was back.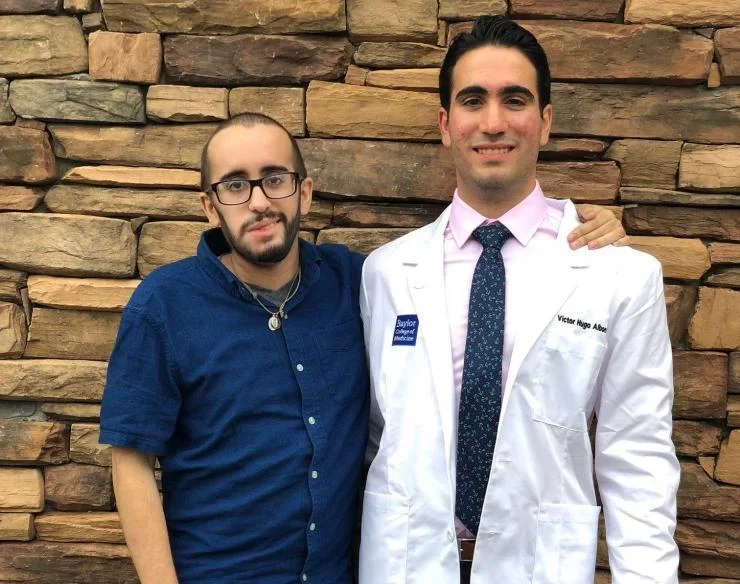 As a young medical student, Victor was relentless in his quest to save Hugo from osteosarcoma. Victor's fight to save his brother motivated him to become an expert in head and neck cancers and to work toward curing the disease that eventually claimed his brother's life.
"Most of what I do is networking to find out what ways I can help the field," Victor said. In addition to leading the Baylor Students Against Cancer Group, he networks with cancer experts across the Texas Medical Center to see how he can bring more opportunities to students interested in pursuing careers in cancer research and care.
Many of the trainees he has helped connect with cancer research projects have written to him thanking him for enabling them to meet with Baylor's cancer scientists and to participate in their projects. He aims to increase the reputation of Baylor's Dan L Duncan Comprehensive Cancer Center as the premier cancer center in the nation. He also is running Baylor's campaign against vaping through the Cancer Prevention Advisory Council.
Outside of Baylor, Victor is the lead volunteer for District 22 for the American Cancer Society. This allows him to meet important legislators and other key stakeholders to form policies and push bills forward. He also speaks with physician-scientists from across the nation involved in projects for the Cancer Prevention and Research Institute of Texas to keep informed about the latest practices and findings in cancer research.
"There is nothing that I think I cannot do, so I keep saying yes," Victor added. Already, he has touched hundreds of lives by supporting his brother, connecting his peers with cancer research projects at Baylor that will accelerate their careers as young scientists and providing information to Houston citizens about cancer studies and therapies. He fully represents what makes our institution a truly special place, a learning health system with faculty members who collaborate to improve healthcare for all and deliver it with the greatest compassion.
Help us power the future of health.